"With vitamin serum, make your skin bright! With peptide serum, make your skin tightened!"

- Stimulation by repeated make-up and cleansing
- Fast skin aging caused by exposure to strong UV rays and air pollution
- Imbalanced and dark skin tone
- Freckles and spots generated fast
- Loosened pores made with ageing



APPLELIME is
the mask pack developed through a lot of efforts made after the realization that a skin tone is hardly concealed even through make-up and 'basic skin care' is important.
Vitamin serum is included to solve the problem of dark skin tone.
Vitamin C with high antioxidity has very low stability.
Over the several decades, vitamin C derivatives have been developed in order to secure stability. These vitamin C derivatives failed to produce the efficacy just as pure vitamin C,
and have difficulty with skin penetration due to molecular structure (macromolecular structure).

To solve the problem, the company researched the hydrogel vitamin C developed initially with its technology and developed more effective and stabilized vitamin C in 2019.
As a result, the product of vitamin C sensitive to a temperature ends up being distributed.
Peptide serum is effective at skin elasticity
Peptide serum is effective at skin elasticity. Peptides are a compound of amino acid that is the basic unit of proteins comprising the human body. Among these peptides,
peptide serum is the composition of peptides helpful for skin elasticity and whitening.
When it is applied together with vitamin serum, it helps to generate collagen and to make a skin healthy basically

As shown in the attached thesis, when ascorbic acid called vitamin C is combined with peptides, collagen synthesis is activated.



Jin-Kyoung Yang, Seon-Yeong Kwak, Su-Ji Jeon, Hye-In Kim, Jong-Ho Kim & Yoon-Sik Lee.
(2014) Facile Synthesis Route to Ascorbic Acid-Dipeptide Conjugate via N-Terminal Activation of Peptide on Resin Support
Natural rayon 100% mask sheet
Among rayon fibers, the fiber with 0.45dex in thickness is the thinnest (hair: 65dex). The thinner the fiber is, the wider it has the skin contact. Therefore, the effective elements of serum can easily be supplied to a skin.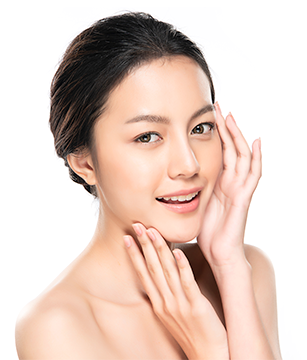 When you need APPLELINME
- When you have your skin tired after outdoor activities
- When you need whitening care due to your dark and rough skin
- When you want to improve skin elasticity
- When your skin texture is not smooth and lacks gloss
- When your skin needs moisture
- When you need home care before going to bed